South Crossing,Cambridge Park, Foxcroft, Heathrow, Ramblewood Manor, Marlton Leas

  A section of Evesham Township located between Route 70 and Evesboro-Medford Road that is made up of many developments, the first of which was South Crossing by Pine Homes, Inc.- which was to be a 500 home development. Construction began in mid 1967, but ended after about 30 homes were built and the project was abondoned.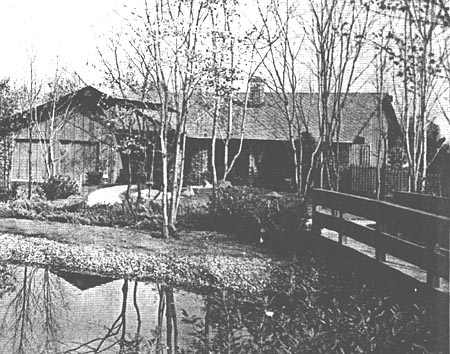 Monterey model home at the Cambridge Park Exhibtion Center. This was the highest priced model at $37,990.

  Of the 1200 homes Levitt had planned to build at Cambridge Park, only 300 were built. A group of residents, known as the Kent Avenue Five, protested a drainage ditch that was built behind their homes which they were promised would be a small brook. At first they picketed at the Exhibition Area and posted signs on thier yards warning prospective buyers about the developer. The group later filed a lawsuit against Levitt and was successful. About this time Levitt filed a lawsuit against Evesham Township, blaming the failure of the development on what they claimed ineptitude of Township officials. One of the Cambridge Park model homes was destroyed in an arson fire in December, 1973.

  With the departure of Levitt, the remainder of the site was purchashed by developers Kaufman and Broad, who built 65 homes here in a section known as Foxcroft with homes featuring California styling. With the poor economy in the mid 1970's, the product line was changed with lower priced models with more traditional styling known as "New American Homes at Foxcroft". K & B had to abandon the Foxcroft project due to a restriction of how many new homes could be connected to the Township's then overloaded sewer system in the mid 1970's

  When the sewer restrictions were lifted, the eastern portion of the site was taken over for the
Heathrow development
in 1977.
   In 1979, development began on
Ramblewood Manor
in the northwestern section - the area around the northern portions of Carlton Avenue and Wyndmere Roads.
    Finally in 1982, the remainder of the tract at the western end was purchashed by Ryland Homes and the 500 home Marlton Leas development was built between 1982 and 1987.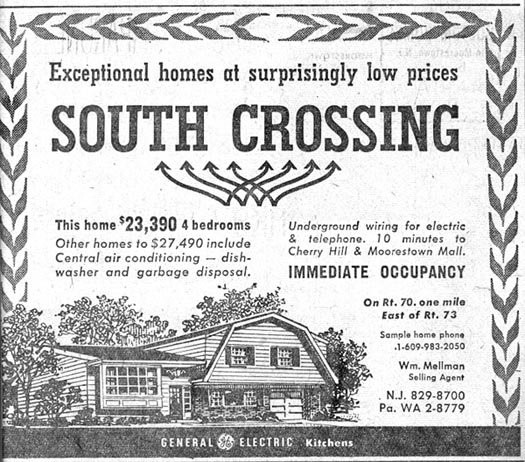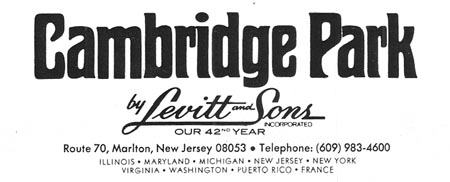 Thanks to Jeffrey Auchter for providing images and information to this page.

    The site was then acquired late in 1969 by Levitt and Sons, builders of the famous Levittowns, who were finishing up thier work in Willingboro. Levitt named this development Cambridge Park. The homes they built here were contemporary style and priced above the average new home prices in Evesham and were more sumptuous. Levitt built a lavish exhibition center to display the model homes, located at the West end of Overington Avenue with a driveway to Route 70.